Quote:
---
Originally Posted by dariush-44 (Post 481125)
I have not followed closely enough, tho seeing the recent tensions, I'm afraid of what this crazy US administration has in store for the world. They never fail to surprise.
Building a coalition for war with Iran will only require Israel and Saudi Arabia apparantly:
http://www.cnn.com/2017/12/14/politi...els/index.html
---
well, Dariush jan...destabilization of middle east is a long time politics of Western powers, Trump just continues like Bush & Clinton etc... until USA would lose its role as an Imperial power, Independent nations in Region must be ready... I believe USA will soon or later face the same destiny as the British empire and lose its power, but that can still take a while(Sure USA has huge debts and one day their ecconomy will lose the competition to China, but at least for next 10-15 years they might try to force their conditions on Independent nations) specially since USA is afraid of China's power, they want to Keep control over strategical regions like middle east... Since the IRAQ and Afghanistan ground invasion ended to a failure, USA has changed their tactic..
the new strategy is since Lybia visible:
a) sanctions and pressure on Independent nations
b) supporting Separatist movements or fanatic groups for proxy wars (Kurdish separatism or the proxy war in Syria)
c) using countries like Saudi Arabia to do the dirty work for them (like current situation in Yemen)
d) or even direct air attacks by NATO or Israel to destroy important facilities or support their bodies on ground (Israeli airforce often attack Targets in Lebanon etc and US-Airforce also was close to get into Syria, but Russian intervention changed the game too fast in Syria)
and since Isarael and Saudis also want a weaker IRAN, for IRAN a very well prepared defence doctrine is a must..
Even I myself am not a big fan of IRI, but in today current situation I think we have to support any thing which improve IRAN's defence capabilities or unity among Iranians (Different ethnic groups in Iran Need also to be good informed that USA/NATO might try to use them for creating separatism Problems)
As I said before, IRAN's government must be forced by population to start with more democratization and reforms from inside. I even prefer a democratization it in slow and carefull steps, so USA/NATO/Israel wouldn't be able to create a chaos like in Syria..but it very important that some Kind of real democratization to be started to prevent tensions among IRANIANS or opening option for separatism or domestic conflicts.
But of course improving the defence capacities is a must and should have the highest priority... A big mistake of IRI was to ignore army for years in favour of IRGC for decades, now they start to realize the importance of Air Force and NAVY quite late (since sanctions make it today hard to get fast Access to advanced weapons for airforce and NAVY). At least one good move of last decades was to create a strong IRAN's missile industry and improving the SAM and radar capacity (so purchasing of S-300 and Projects like Bavar and RAAD have really created a solid ground based defence). But the weakest links are today
the airforce and Navy..specially the airforce will have a key role in combination with ground based SAMS to protect IRAN's sky from potential sudden wave of attacks!
I agree with current head of defence forces that Saudi or Shah's Model of buying by spending billions is not a smart option(since you would be too dependent any by any sanctions your defence capability suffers a lot.. Therefore production inside Iran is a must... But as a first step for Access to Technology I think a license production of a solid 4th or 4.5 th Generation fighter would be a very good start. Iran seems to focus on SU-30MK (since Russians aren't ready to share with Technology Transfer on their Superfighter SU-57 or SU-35).. The best remaining options for IRAN would be SU-30 or MIG-35..I myself would prefer Mig-35 cuz Iranian technician have already experiences with Mig-29 and it would be easier to focus on a similar Plattform, also if IRAN would be ready to make some Investment a 3d vector thrust version of Mig-35 could be a huge benefit for IRAN. but to be honest I would be ok with SU-30 too(cuz it is solid and robust fighter jet and in combination with IRAN's SAM Units it would be a big improvement comparing to today flying Museum)
But if Iran and Russia couldn't fnd an agreement than I would go for a licens production of a newer Chinese jet in a larger numbers at least 200-300 Units
Here are some Pictures for those who aren't familiar with Military aviation
SU 57 = 5th generation fighter (Russia would never agree to let any nation produce this fighter in license, it is the direct competitor of F-22 and for understandable strategical reasons no information of Technology of this fighter would be shared with Iran or other nations before 2030). Only India has been able to have Access to some Technologies, since there will be an Indian version with Indian avionics and weapons (Russians only agreed, since the huge costs made a Partner indispensable. But Russians might agree to just "sell" some 30-40 Units to IRAN after 2028 since their own airforce has the priority and they are already waiting (which Iran wouldn't agree, since for IRAN a production inside IRAN and acces to blueprints is a must)
Also I have doubts if IRAN industry would right now be capable to produce this jet in a fast and efficient way..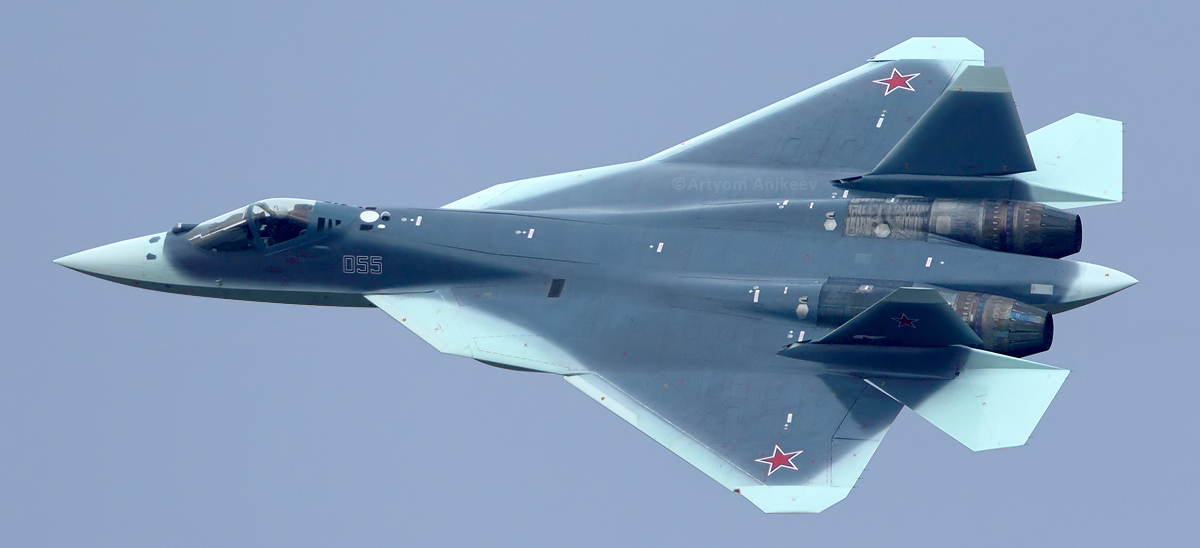 SU-35 = 4.5 Generation fighter (also a superb fighter which is a competitor of F-35 or Eurofighter, also a Technology transfer and license production wouldn't be agreed by Russians, since this is currently their top fighter till SU-57 would join the service). So no option for IRAN
So that means IRAN will have following remainig options with their PRO and CONS
(And remember cuz of UN-Sanctions any solutiuon couldn't be deliverd or produced before 2020)
SU-30: Solid, Robust fighter, very solid weapon Systems and radar. it is comparable to newest versions of F-18 and F-15 (which are in service in US-NAVY or Israelis airforce)
PRO: Solid, very capable, multifunctional, a good solution for next 10 years, a good Plattform for future IRAN's upgrade or reverse engineering..Also IRAN could before starting the production buy or rent some 30-40 Units for the priority improving of current defence till some 140-160 Units would be finished inside IRAN
CON: 4th Generation fighter, very conventional, so for next 10 years solid solution but if you use this Plattform for future own develeopments, any own creation on this platform would remain a 4th or max a 4.5 Generation fighter jet
MIG-35: what I would have Chosen if possible..Robust solid 4.5 Generation light fighter
PRO: very good radar and if you would be ready to invest versions with vector thrust would be possible.. a key Technology for improving dog fights capacities or Shorter take off distances Similarities to Mig-29 would make it for IRANIAN technicians easier
And finally if there would not be possible to sign any contract with Russians, following Chinese solution could be an alternative
Pro: solid weapons, cheap Price, easy to upgrade CON: 4th Generation